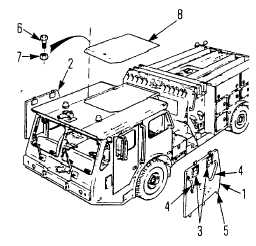 TM 5-4210-220-12
4-12.  CAB - Continued
4-12 11  Engine Compartment Covers and Canopy
This task covers
a.
Removal
b.
Inspection
c.
Installation
d.
Repair
TOOLS
Tool Kit, General Mechanic, Automotive,
NSN 5180-00-177-7033
EQUIPMENT CONDITION
Engine Shutdown (see para. 2-10)
APU Shutdown (see para. 2-12)
Battery Switch OFF
MATERIALS/PARTS
310342-02 Locknut
NOTE
The procedures for left and right engine cover removal, installation, and repair are identical.
REMOVAL
a.  Engine Compartment Cover Removal
(1)  Remove left/right cover (1)/(2).  Lift door lock handles (3) and pull upper edge of cover free of frame.
(2)  Grasp grab handles (4) and lift cover location pins (5) free of engagement with frame.
b.  Engine Canopy Removal
(1)    Remove  engine  air  cleaner  as  detailed  in
para. 4-23.8.
(2)      Remove   screws   (6)   and   locknuts   (7)
attaching canopy panel (8).
(3)    Remove  canopy  panel  by  lifting  it  free  of
roof structure.
INSPECTION
(1)    Inspect  each  compartment  cover  for  damage  and  defective  components.    Refer  to  appropriate  repair
procedure if handles, lock, or locating pins are damaged.
(2)  Minor dents in the cover panels may be straightened using a hammer and dolly, see para. 4-9.  More
extensive damage must be referred to Direct Support Level.
4-116