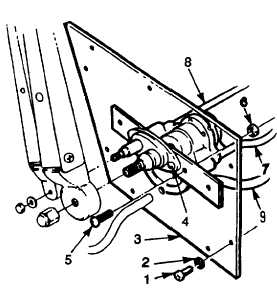 TM 5-4210-220-12
4-12.  CAB - Continued
4-12.10  Windshield Wiper and Washer - Continued
(8)      Install   new   motor   or   motor   plate   using
screws (5) and nuts (6).
(9)    Install  drive  unit  and  secure  with  screws
(4).
(10)    Install  air  hose  (7,8)  and  water  hose  (9)
(red air hose attaches to rear of the motor).
(11)  Coat mating area of motor plate (3) with
fresh sealant (item 25, Appendix E).  Align
motor plate with cab panel and secure with
screws (1) and washers (2).
(12)  Install wiper air as detailed in c preceding.
Change 6  4-114.1