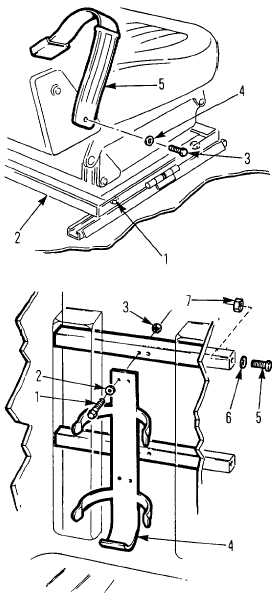 TM 5-4210-220-12
4-12.  CAB - Continued
b.  Rear Seat Base Removal
(1)    Remove  nuts  (1),  and  remove  seat  base
(2).
(2)      Remove   screws   (3),   washers   (4)   and
remove seat belt (5).
c.  Rear Seat Back Removal
(1)  Lift off breathing air set.
(2)      Remove   breathing   air   bracket   (4)   by
removing  screws  (1)  washers  (2)  and  nuts
(3).
(3)  Remove screws (5), washers (6), and nuts
(7) and lift out seat back.
INSPECTION
(1)    Inspect  seat  for  damaged  or  broken  components.    Clean  corroded  or  rusted  parts  and  lubricate  pivot
joints and sliding surfaces with white grease (item 34, Appendix E).
(2)  Seat components with exception of the complete seat and seat belt are not replaceable.  Minor rips and
tears in the vinyl upholstering may be repaired using a commercially available vinyl repair kit.
4-111