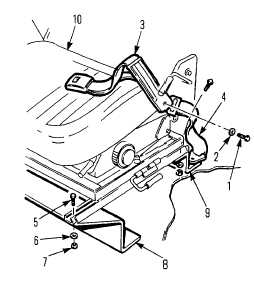 TM 5-4210-220-12
4-12.  CAB - Continued
4-12.9  Seat.
This task covers
a.
Removal
b.
Inspection
c.
Installation
TOOLS
Tool Kit, General Mechanic, Automotive,
NSN 5180-00-177-7033
EQUIPMENT CONDITION
Main Engine Shutdown (see para. 2-10)
APU Shutdown (see para. 2-12)
Battery Switch OFF
MATERIALS/PARTS
34, Appendix E White Grease
310700-05 Locknut
PERSONNEL REQUIRED

- 2
NOTE
Although  the  front  crew  seat  and  the  drivers  seat  are  different,  the  mounting  of  the  seats  is
identical.
REMOVAL
a.  Front Seat Removal
(1)  Remove screws (1) and washers (2) attaching seat belts
(3) and tether straps (4) to seat (10).
NOTE
Only the drivers seat is equipped with tether straps.
(2)    Remove  screws  (5),  nuts  (7),  and  washers  (6)  attaching
seat  to  front  and  rear  seat  risers  (8)  and  (9)  and  remove
seat from cab.
4-110