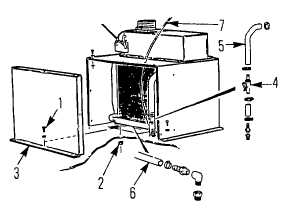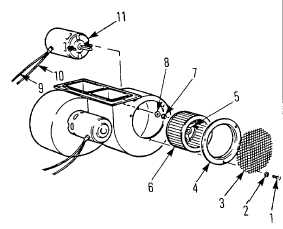 TM 5-4210-220-12
4-12 CAB - Continued
(2)  Inspect heater control valve (4).  Replace valve if:
- valve shows signs of leakage.
- valve operation is sloppy, i e to much play
between stem and body.
- valve is excessively hard to open or close.
- valve cannot be fully opened or fully closed.
(3)  Inspect hoses (5 and 6) Replace if leaking or signs of
swelling, cracks or brittleness are present.
(4)  Use illustration as guide to replace components.
(5)  Apply sealant (item 22, Appendix E) to thread of
fittings replaced.
(6)  If removed, reinstall heater control cable (7) as detailed in para. 4-12.4 INSTALLATION.
(7)  Install cover (3) and attach using screws (1) and nuts (3).
b.  Heater Core Repair
NOTE
Heater  core  cannot  be  repaired.    If  leaking,  replace  heater  unit  as  detailed  in  REMOVAL  and
INSTALLATION preceding.
c.  Blower Wheel Repair
NOTE
Blower unit may remain in truck.  This instruction details repair of either blower wheel.
(1)  Remove screws (1), washers (2), screen (3), and ring (4).
(2)  Loosen socket head set screw (5) and pull blower wheel
(6) off motor shaft.
(3)  Inspect removed parts.  Damage such as minor dents or
bends   in   the   screen,   ring,   or   blower   wheel   may   be
straightened.  Parts with major defects must be replaced.
(4)    Install  blower  wheel  on  motor  shaft.    Tighten  screw  (5)
against  flat  on  shaft.    Be  sure  blower  wheel  can  spin
without    interference    with    housing    or    ring    (4).        If
necessary, loosen screw (5) and adjust wheel position.
(5)  Install ring (4) and screen (3) using washers (2) and self-
tapping screws (1).
4-107