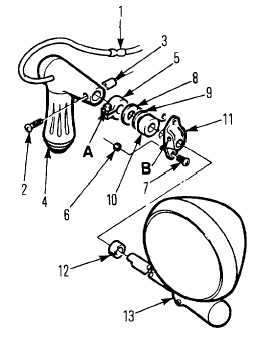 TM 5-4210-220-12
4-12.
CAB - Continued
4-12.3  Spotlight.
This task covers
a.
Removal
b.
Inspection
c.
Installation
d.
Repair
TOOLS
MATERIALS / PARTS
Shop Equipment Automotive
320562 Butt Splice
Maintenance and repair
MS51922-1 Locknut
NSN 4910-00-754-0650
EQUIPMENT CONDITION
Main Engine Shutdown (see para. 2-10)
APU Shutdown (see para. 2-12)
Batteries Disconnected )see para. 4-24)
NOTE
Removal,  installation,  and  repair  of  the  left  hand  spotlight  is  detailed.    The  procedures  for  the
right hand spotlight are similar.
REMOVAL
(1)    Cutout wire butt splice (1) and discard.  Be
sure to cut as close as possible to splice on
both  sides.    If  splice  is  not  accessible,  cut
wire   at   least   2   in.   (50   mm)   away   from
spotlight.
(2)    Remove handle assembly wedge screw (2)
and   wedge   (3)   Pull   handle   assembly   (4)
free of lamp assembly shaft.
(3)    Loosen   screw   (A)   and   remove   collar   (5)
Remove   screw   (7)   and   nut   (6)   attaching
arm (8).  Remove arm (8), wire clip (9), and
rubber bushing (10).
(4)    Loosen  screw  (B)  and  pull  lamp  assembly
(13)  out  of  bracket  (11).    Be  sure  to  retain
split sleeve (12).
(5)    Remove  two  screws  (7)  and  nuts  (6),  and
remove bracket (11).
INSPECTION
(1)    Inspect     all     components     for     superficial
damage.    Be  sure  the  bulb  lens  is  free  of
cracks.
(2)     Check that components making up the
handle and lamp assemblies are firmly
attached.
4-90