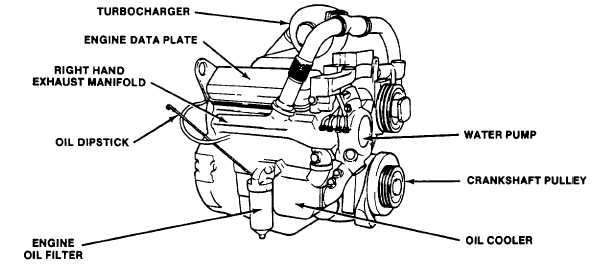 TM 5-4210-220-12
1-9.  LOCATION AND DESCRIPTION OF MAJOR COMPONENTS.  - Continued
c.
Lights and Safety Equipment.  - Continued
(3)
The signal lights, consisting of the turn signal lights, stop lights, and back-up lights are used to indicate to
other traffic that the truck is about to change direction, slow down, or stop.  The turn signal lights are directly controlled by
the driver.  The stop lights automatically illuminate when the brake pedal is applied.  The back-up lights together with a
back-up alarm operate when the transmission is selected to reverse gear.  In addition to normal turn indication, all the
turn signal lights can be selected to flash simultaneously.  This feature is used to indicate road hazard conditions.
(4)
The warning lights, comprising the strobe light beacons and oscillating warning lights, are used as visual
warning signals to other traffic.  The beacons are fitted with high intensity flash tubes and the oscillating lights with high
intensity halogen bulbs.
(5)
The work lights consist of the front and rear spotlights.  These high intensity lights are used for illumination
of work areas in front and behind the truck respectively.  The front lights can be aimed individually from within the cab.
(6)
The auxiliary lights consist of the structural control panel lights, cab and canopy lights, a cab map reading
light, engine compartment lights, and storage compartment lights.  These lights are provided for crew convenience.  Two
of  the  cab  dome  lamps  and  the  storage  compartment  lights  are  normally  controlled  by  door  actuated  switches.    The
remaining lights are manually controlled.
(7)
Rearview  mirrors,  comprising  two  rectangular  mirrors  and  two  convex  mirrors  are  provided  on  the  cab
doors.    The  rectangular  mirrors  are  heated  to  prevent  fogging  or  icing  in  cold  weather  and  are  equipped  with  marker
lights.  The convex mirrors enable wide angle rear viewing.
(8)
Grab  handles,  located  at  all  crew  stations,  are  provided  for  safety  when  climbing  on  and  off  the  truck.
Hinged safety bars are provided at the rear crew seats as additional protection for the rear seated crewmembers.
(9)
An   electronic   siren/PA   (Public   Address)   unit   is   installed   in   the   cab   accessible   to   both   driver   and
crewmember.  The speaker is mounted behind the front bumper together with electric and air horns.  The electric horns
are operated from the steering wheel.  The air horn is operated from pull chains on both sides of the cab.
d.
Engine.

 

 

The  truck  is  provided  with  a  V-configuration,  six-cylinder,  two-cycle  diesel  engine  equipped  with
turbocharger and aftercooler (see fig. 1-7).  The engine develops 350 horsepower at a governed speed of 2100 rpm.
Figure 1-7.  Truck Engine
1-8