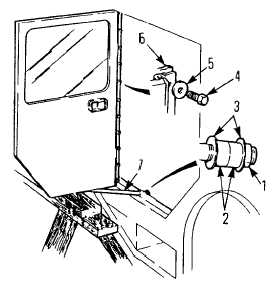 TM 5-4210-220-12
4-12.
CAB - Continued
4-12.2  Cab Door.
This task covers
a.
Removal
b.
Inspection
c.
Installation
d.
Repair
TOOLS
MATERIALS / PARTS
Tool Kit,  General Mechanic,  Automotive,
34, Appendix E White Grease
NSN 5180-00-177-7033
310342-03 Locknut
EQUIPMENT CONDITION
PERSONNEL REQUIRED -

2
Main Engine Shutdown (see para. 2-10)
APU Shutdown (see para. 2-12)
Battery Switch OFF
Mirror Removed From Door (see para. 4-12.1)
NOTE
Removal  and  installation  of  the  left  hand  door  is  detailed.    The  procedure  for  removal  and
installation of the right hand door is similar.
REMOVAL
(1)
Place support under the fully open door.
(2)
Remove   locknut   (1),   rubber   bumpers   (2)
and   flat   washers   (3)   Access   these   parts
from underneath the cab.
CAUTION
Door is heavy, be sure second person supports it.
(3)
Remove  screws  (4),  flat  washers  (5),  and
shim   (6), if used, from cab panel.
(4)
Lift and remove door.
INSPECTION  
(1)
Check door hinge for damage and corrosion.  Be sure hinge moves freely if movement is stiff, clean and
lubricate hinge with white grease (item 34, Appendix E).
(2)
Inspect cab door, door frame, and shim (6).  Dents and other damage, including paint work, should be
repaired before the door is installed.
(3)
Inspect door check components.  Be sure rubber bumpers (2) are in a good condition and the check rod
(7) is undamaged.
4-84