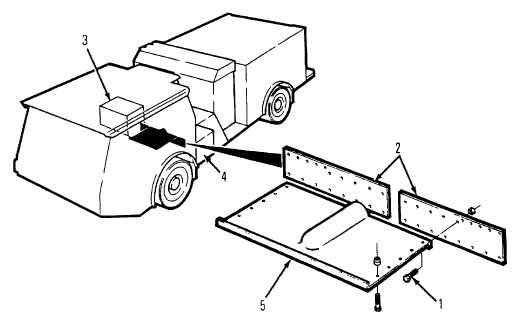 TM 5-4210-220-12
4-11   HEAT SHIELDS
4-11.1    Front Heat Shield.
This task covers
a
Removal
b
Installation
c
Repair
TOOLS
MATERIALS/PARTS
Tool Kit, General Mechanic, Automotive,
25, Appendix E Sealant
NSN 5180-00-177-7033
310700-07 Locknut
85-0-8731701 Sheet Rubber
102428 Front Heat Shield
EQUIPMENT CONDITION
Main Engine Shutdown (see para. 2-10)
PERSONNEL REQUIRED

- 2
APU Shutdown (see para. 2-12)
Batteries Disconnected (see para. 4-24)
Wheels Blocked
Pump Body Heat Shield Removed (see para. 4-11)
REMOVAL
a
Front Heat Shield Removal
(1)
Remove the capscrews (1) that attach the rubber deflectors (2) to the fuel tank housing (3), and battery box
(4), and front heat shield (5).
4-72