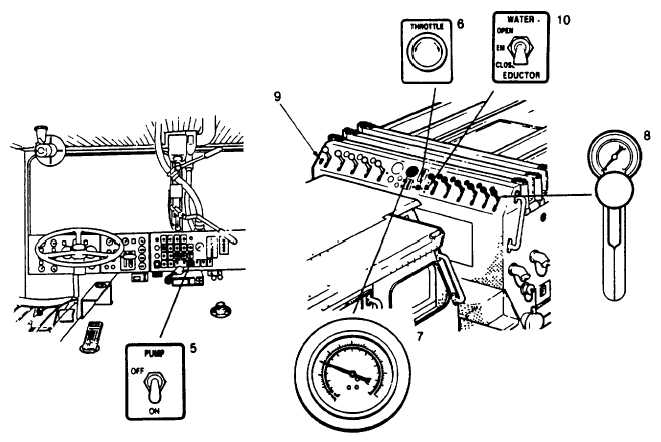 TM 5-4210-220-12
2-11.  FIREFIGHTING OPERATIONS-Continued
(6)
Set the pump switch (5) to ON.
(7)
When ready to begin firefighting, increase the pump pressure by manually adjusting the throttle regulator
(6) in a clockwise direction.
NOTE
Maintain the pump discharge pressure gage (7) at approximately 150 psi (1030 kPa).
(8)
Open applicable discharge port(s) and regulate the hose discharge pressure(s) using levers (8).
NOTE
Monitor  engine  coolant  temperature.   If  the  temperature  exceeds  210  deg.  F  (99  deg.  C),  or  the
alarm sounds, open COOLANT control valve (9) gradually until temperature stabilizes at 200 deg.
F (93 deg. C).
NOTE
If foam is required, carry out steps 9 thru 12.
(9)
Set the water educator switch (10) to OPEN.
Change 3   2-53