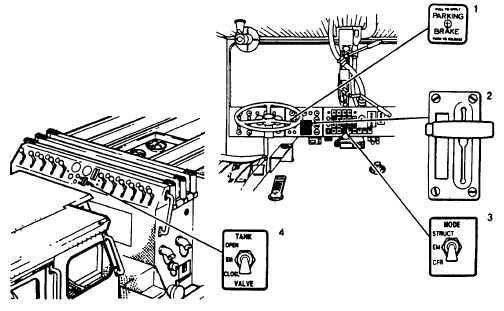 TM 5-4210-220-12
2-11.  FIREFIGHTING OPERATIONS-Continued
b.
Structural Firefighting
(1)
Stop  the  vehicle  and  idle  the  engine.    Engage  the  parking  brakes  by  pushing  in  button  (1)  and  set  the
transmission shift lever (2) to N (neutral).
(2)
Set the mode switch (3) to STRUCT.
(3)
Play out the connect suction hoses to water supply insuring that connections are tight and all drains and
discharge ports are closed.
NOTE
•
When   water   must   be   supplied   via   the   water   tank,   connect   hoses   between   the   source,
(hydrant, pump, tanker) and the rear auto fill valve.  Set the rear auto tank fill valve switch to
ON (see para. 2-5).  Maintain switch OFF when not in use.
•
When water must be supplied via drafting, connect hoses between water source (open pond,
holding tank) and suction ports on vehicle.  Be sure that all internal and external strainers are
in place.
(4)
If use of the tank supply is required, set the tank valve switch (4) to OPEN.
NOTE
Maintain the switch CLOSED when water is provided via the suction manifold.
(5)
Play out and attach hoses to the discharge ports as required.
Change 3    2-52