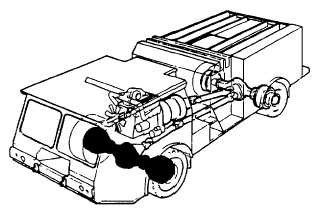 TM 5-4210-220-12
Table 2-1.  Operator Preventive Maintenance Checks and Services (PMCS) - Continued
A - After Mission
D - Daily Checks
W - Weekly
Interval
Item
ITEM TO BE INSPECTED/Procedure
Equipment is not
No.
A
D
W
Ready/Available If
45
WHEELS AND TIRES
•    
•
Check pressure of all tires, 70 psi (480 kPa)
- Pressure low
Check each tire for large objects in tread, remove
- Deep cuts or tread
separa. tion
Check for deep cuts, uneven wear, or signs of tread
separa. tion.
Report any deficiencies to Organizational Maintenance.
46
FRONT AXLE
•
•
Inspect front axle for signs of oil loss
- Severe loss of oil
Inspect tie rod ends for grease loss.
If, when steering the truck, any noise/grating is
- Noisy steering (failed
generated in the axle steering mechanism, report failure
ball joints)
to Organizational Maintenance.
- Noisy bearings or
Inspect steering balls for signs of deep scoring or severe
gears
corrosion.  Report any deficiency to Organizational
Maintenance.
2-42