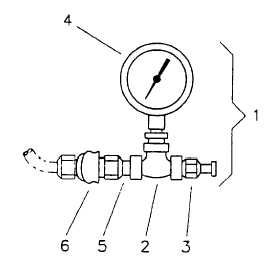 TM 5-4210-218-13&P
4-18.   HALON CYLINDER ADAPTER ASSEMBLY W/GAUGE.  REPAIR.  (Refer to Figure 4-10)
This task covers:
a.
Removal
b.
Installation
INITIAL
SETUP
Equipment
Condition
Tools
Reference
General Mechanics Tool Box, Item 1, Section
Cover removed from Recovery / Recharger
III, Appendix B.
paragraph 2-6.1
Materials/Parts
Adapter disconnected from Halon cylinder
As required
Antiseize tape (item 3, Section II, Appendix F)
Air supply disconnected, paragraph 2-7
NOTE
The Halon cylinder adapter assembly (1) is composed of five individual elements.
Figure 4-10.  Halon Cylinder Adapter Assembly Repair
4-18.1   Halon

Cylinder

Adapter

Replacement

.
4-18.1.1    

Removal

.
a.
Disconnect Halon cylinder adapter assembly (1) from Halon hose using the quick disconnect fitting (6).
b.
Holding pipe tee (2) securely, unscrew Halon cylinder adapter (3) and discard.
4-23