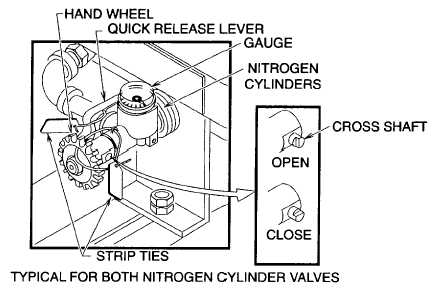 TM 10-4210-235-13
ITEM
ITEM TO BE
NOT FULLY MISSION
NO
INTERVAL
CHECKED OR
PROCEDURE
CAPABLE IF:
SERVICED
Unit Functional Check
d.  Remove fire hose nozzles from
- continued
trailer mounted extinguisher
assembly hose assembly.  Separate
the auxiliary mobile hose reel cart
inlet hose assemblies and connect
to trailer mounted extinguisher
assembly hose assembly
e.  On the auxiliary mobile hose
reel cart, pull lock pin and remove
fire hose nozzles from nozzle
bracket.  Pull the hose assembly
completely off drum.
f.  Remove two strip ties from
each cylinder valve.  Open (raise)
both nitrogen cylinder valve quick
release levers
g.  Listen for any leaks m system.
Any leaks are found.
h.  Momentarily squeeze the fire
No gas escapes or any foreign
hose nozzle valve levers one at a
material is discharged
time and check fire hose nozzle
discharge for any foreign material.
Gas only should escape.
i.  Turn each cylinder valve hand
wheel fully counterclockwise
(open).  Close (lower) quick
release lever.  Rotate cross shaft
until flat is horizontal.  Turn hand
wheel fully clockwise (closed).
4-9