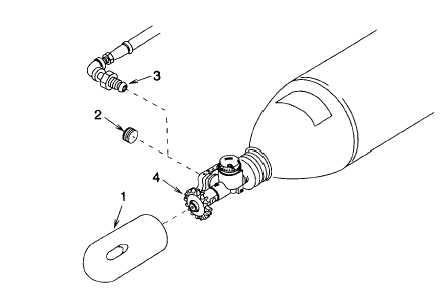 TM 10-4210-235-13
4-5.  INSTALLATION.
a.
Remove shipping cap (1) and store with accessory equipment
b.
Remove valve plug (2)
c.
Connect hose assembly fitting (3) to cylinder valve (4) and tighten.
Figure 4-1.  Cylinder Hose Connection
d.
Orient the equipment on site per paragraph 2-8.
e.
Setup, check, and service the equipment per paragraph 2-8.
f.
Lubricate per Appendix F
g.
Check tire pressure (80 psig (552 kPa))
h.
Perform functional check on parking brakes per paragraph 4-29
4-3