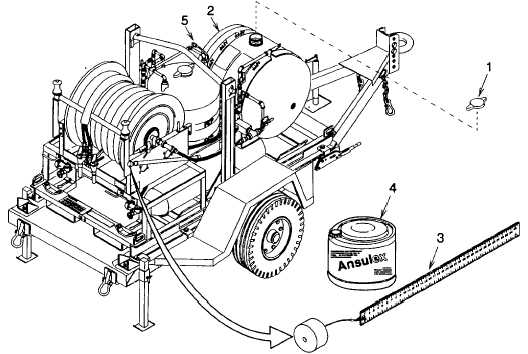 TM 10-4210-235-13
2-10.  OPERATING PROCEDURES.  - continued
(17)
Refill AFFF tank.
Figure 2-22.  Refill AFFF Tank
WARNING
Cap must not be removed until tank pressure has been relieved.  Severe injury can result if
cap is removed while tank is pressurized.
(a)
Remove the cap (1) (fig.  2-22) from the AFFF tank (2).
CAUTION
Be  careful  not  to  damage  the  AFFF  tank  lining  with  metal  hose  ends  or  connections.    The
lining can be scratched or scored resulting in corrosion of the AFFF tank
NOTE
·

Foam liquid will freeze, but the plastic container(s) used for shipment will expand safely with
the ice.  The foam liquid can be used after it thaws.
·

Foam  liquid  must  be  disposed  of  in  compliance  with  local,  state,  and  federal  regulations.
Rinse any spill thoroughly with water as the foam liquid is slippery.  The foam liquid poses no
direct  hazard,  however  it  should  be  disposed  of  in  limited  quantities  at  a  time  to  avoid
nuisance foaming in sewer or waterway.
(b)
When refilling the AFFF tank (2), insert a hose against the bottom of the tank and add water to within nine inches
(23 cm) of the fill collar top using gage rod (3) to measure distance, pour in the required amount of foam liquid (4) per
table 2-5, then fill the AFFF tank with water until the foam liquid and water mixture is 4.5 inches (11.4 centimeters) from
top of fill collar using gage rod to measure distance No further mixing of the solution is required after filling.
2-48