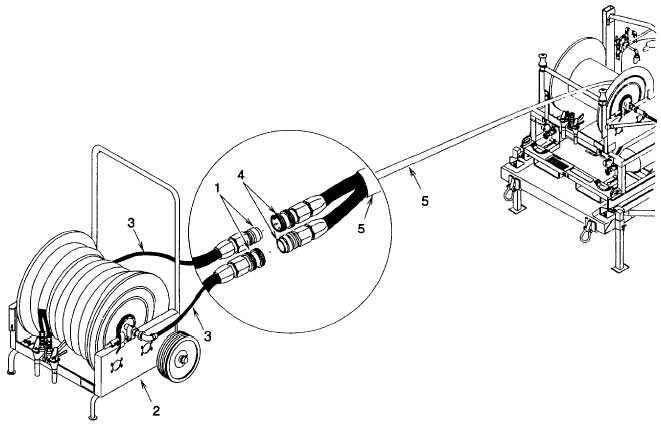 TM 10-4210-235-13
2-10.  OPERATING PROCEDURES - continued
(1)
Squeeze both fire hose nozzle (1) (fig.  2-11) valve levers to release any residual pressure.
(2)
Release coupling halves (2) and remove hose assembly (3) from fire hose nozzle (1)
(3)
Pull all the hose assembly (3) from drum (4).
Figure 2-12.   Auxiliary Mobile Hose  Reel Cart Hose Connection
(4)
Release   coupling   halves   (1)   (fig.      2-12)   on   auxiliary   mobile   hose   reel   cart   (2)   and   separate   hose
assemblies (3).
(5)
Connect coupling halves (4), from hose assembly (5), to hose assemblies (3).
(6)
Proceed to step c.
c.
Operation  with  trailer  mounted  extinguisher  assembly  only  and  continued  operation  with  auxiliary  mobile  hose
reel cart
NOTE
If auxiliary mobile hose reel cart is needed to reach the fire, connect it to the trailer mounted
extinguisher assembly per paragraph b.  before opening the nitrogen cylinder valves.
Strip ties have been put on critical valves to indicate tampering with ready status settings.  The strip
ties will easily break when operating valves.
(1)
Break strip ties (1) (fig.  2-13).
2-40