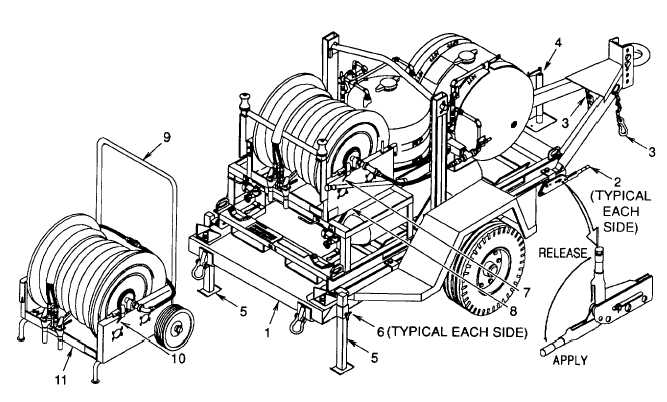 TM 10-4210-235-13
(b)
The trailer mounted extinguisher assembly is self-contained and requires minimal space.  Room for
effective operation and maintenance is all that is required.  A source of electrical power (120/240 volt, 1 phase, 60 hertz,
AC) for the AFFF tank heater and water to recharge the AFFF tank is the only external support needed from the using
organization.
(c)
The fire suppression equipment set must be properly set up for stationary use.
Figure 2-10.  Equipment Setup
(2)
Equipment setup.
WARNING
The equipment is made of metal.  Wear gloves when operating or servicing as surfaces can
become very hot if unprotected from the sun in extremely hot climates.
(a)
Remove the trailer mounted extinguisher assembly (1) from the towing vehicle.
1
Apply both parking brakes (2).
2
Disconnect safety chains (3).
3
Position the jack (4) from the towing (horizontal) position to the support (vertical) position and use to
lift the front of the trailer mounted extinguisher assembly (1) off the towing vehicle.  When loose, move the vehicle away.
4
Lower  the  jack  (4)  enough  to  allow  the  two  rear  jack  stands  (5)  to  drop  to  the  extended  position.
Loosen the two handles (6) and lower each rear jack stand.  Tighten handle into upper hole of each jack stand.
2-37