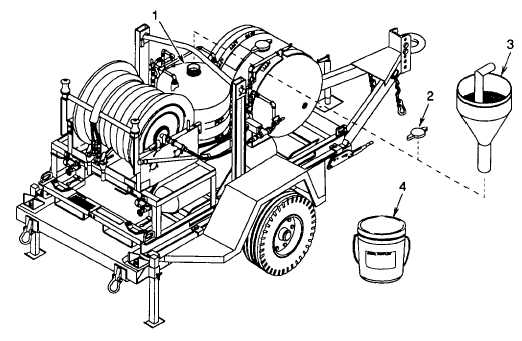 TM 10-4210-235-13
Section III.  OPERATION UNDER USUAL CONDITIONS
2-9 ASSEMBLY AND PREPARATION FOR USE.
a.
Assembly.
CAUTION
Always fill the dry chemical tank first and ensure the dry chemical funnel is completely dry
prior to use so no water is introduced into the tank Any moisture In the dry chemical can
cause it to clog due to caking.
Figure 2-6.  Filling Dry Chemical Tank
(1)
The dry chemical tank (1) is filled with 450 pounds (204 kilograms) dry chemical prior to shipment Check the
dry chemical for "caking".
(2)
Remove the cap (2) from the dry chemical tank (1).  Stir the dry chemical to break up any lumps and loosen
If It has packed from shipping.
(3)
Check the dry chemical for hard lumps that would prevent the system from operating.  If lumps are found,
remove one and drop it from a height of four inches (10 centimeters) onto a hard surface If the lump completely breaks
apart,  the  dry  chemical  is  only  packed  from  settling  and  is  in  satisfactory  condition  If  the  lump  does  not  break  apart
completely, caking is present and the dry chemical must be replaced.
2-31