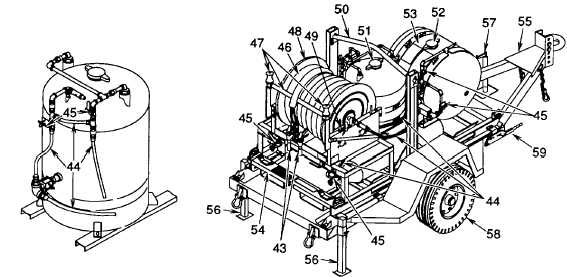 TM 10-4210-235-13
Location
Item
Item To Be
Procedure
Not Fully Mission Capable If:
No
Interval
Check/Service
43
After
Fire Hose Nozzle
Check for obstruction in fire hose
Fire hose nozzle is obstructed.
nozzle outlet.
Check that fire hose nozzle valve
Valve lever binds or is difficult to
levers squeeze smoothly with no
operate.
binding.  Notify your supervisor if
any gas escapes.
Be sure fire hose nozzle is secure on
nozzle bracket.  See paragraph 2-10.
44
After
Hose Assemblies
Check that hose assemblies are
If any hose assembly shows
tight and in good condition with no
evidence of leakage, loose
evidence of leaking or dry rot
connections, dry rot, or other
visible damage.
45
After
Valves and Piping
Check for evidence of leaking or
Damaged, leaking, or strip ties
visible damage and if strip ties are
missing.
missing.
2-26