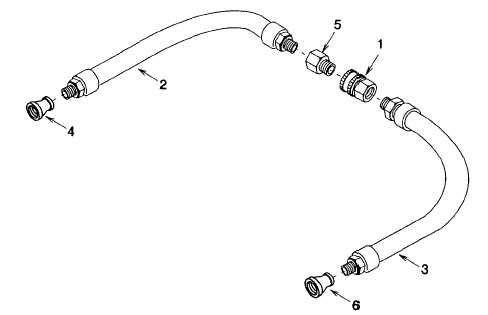 TM 10-4210-235-13
4-31 HOSES REPLACEMENT.  - continued
Figure 4-34.  Hoses
4-32.  REMOTE AUXILIARY HOSE REEL CART REPAIR AND REPLACEMENT.
This task covers:
a.
Disassembly
b.
Repair
c.
Assembly
INITIAL 
SETUP:
Tools
Materials/Parts
General Mechanics Tool Kit, Appendix B, Section III,
Cotter Pins (2), Appendix H, item 10
item 1
a.
Disassembly
NOTE
Repair is limited to replacement of damaged components.
(1)
Remove two dust caps (1), cotter pins (2), flat washers (3), wheels and tires (4), and spacers (5) from cart
(6) axles.  Discard cotter pins.
(2)
Remove hose reel assembly per paragraph 4-19.
b.
Repair
Repair Is limited to replacement of defective or damaged components only.
4-78